The Land of Stories series by Chris Colfer are very popular with grades 3-6 readers.  Here are some other kids series featuring fairy tale characters.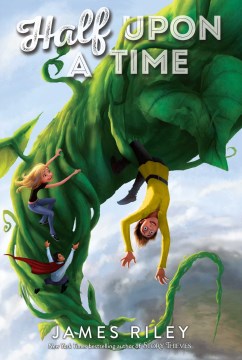 Half upon a time   by James Riley
In the village of Giant's Hand Jack's grandfather has been pushing him to find a princess and get married, so when a young lady falls out of the sky wearing a shirt that says "Punk Princess," and she tells Jack that her grandmother, who looks suspiciously like the long-missing Snow White, has been kidnapped, Jack decides to help her.  Also, Twice upon a time and Once upon the end.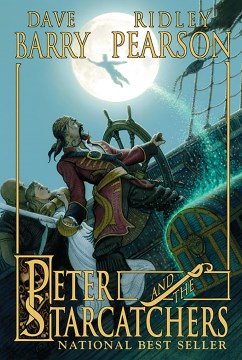 Peter and the Starcatchers   by Dave Barry
While young orphan Peter and his friends are sent away to an island ruled by the villainous King Zarboff and are forced to set sail aboard the Never Land, Peter decides he must take action into his own hands if he ever plans to escape and so decides to find out the mystery behind the cargo being carried deep within the ship.  Also, Peter and the Shadow Thieves; Peter and the Secret of Rundoon; Peter and the Sword of Mercy; The Bridge to Never Land.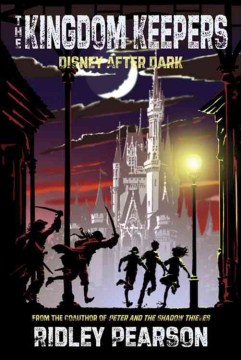 The kingdom keepers : Disney After Dark    by Ridley Pearson
Finn Whitman and his fellow DHIs, teenagers chosen to serve as actors for a new technology, must investigate strange occurrences at Disney theme park attractions, racing to uncover a supernatural force that could destroy the world. Also, Disney at Dawn; Disney in Shadow; Power Play; Shell Game; Dark Passage; The Insider.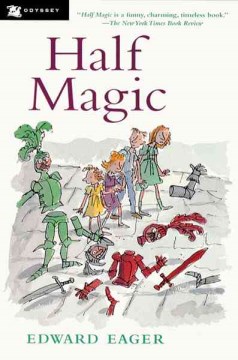 Half magic   by Edward Eager
Four children spending their summer in a city apartment enjoy a series of fantastic adventures by double-wishing on an ancient coin, in a re-release of a classic tale that includes new cover art by Quentin Blake.Also, Magic by the lake; Knights castle; The time garden; Magic or not; The well-wishers;  Seven-day magic.
  
Rump : the true story of Rumpelstiltskin  by Liesl Shurtliff
When his mother dies without revealing his full name, Rump endures teasing for his half-name until he discovers his ability to spin gold, a talent that entangles him in a dire curse and prompts a fantastical quest to discover his true identity. Also, Jack and Red.
   
Fairest of all  by Sarah Mlynowski
After moving to a new house, ten-year-old Abby and her younger brother Jonah discover an antique mirror that transports them into the Snow White fairy tale. Also, If the shoe fits; Sink or Swim; Dream on; Bad hair day; Cold as ice; Beauty Queen; Once upon a frog; Genie in a bottle; Sugar and spice; Abby in Wonderland.